Real Estate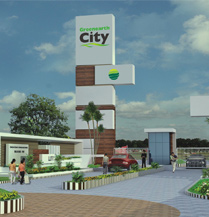 During the last few years, post liberalization of the Indian economy, the Indian real estate market has witnessed a major shift in consumers' lifestyle and preferences. Rising living standards and increasing disposable incomes are inspiring more and more people today to invest in quality residences.
To capitalize on the fact that people are now looking for a better, more convenient and well equipped place to live in, the KN Group decided to venture into the Real Estate sector.
In partnership with the famous IBD Group of Central India, the KN Group has launched Greenearth Infraventures Pvt. Ltd., which aims at providing high standard living and a premium lifestyle through its quality offerings.
Conveniently located in the heart of Patan Road, Raipur, Greenearth Infraventures Pvt. Ltd. is adding value to the real estate market in Chattisgarh by providing better homes, better amenities, better surroundings and ultimately... a better life.
Greenearth City, the first residential project by Greenearth Infraventures Pvt. Ltd., spans  over 42 acres and offers natural green and healthy environment to city dwellers. The township, with 22 lakh sq. ft. of constructed area is equipped with all modern amenities.
The environment-friendly 2 and 3 BHK apartments at GreenEarth City come with a convenient city bus service and an easy access to many schools, colleges and universities in close vicinity. This township has been suitably planned for a chosen community of 2500 families, promising premium homes at an affordable rate.
GreenEarth Infraventures Pvt. Ltd. is also coming up with a high end commercial property in Raipur. With constructed area of 2 lakh sq. ft., this property boasts of modern shopping complexes, offices, extensive parking space and a swanky cafeteria.