Non-gmo Soybean Processing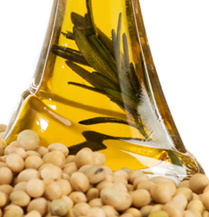 Soybean, a source of high quality protein, is one of the major oilseed crops in the World. In India, the Soybean produced is Non-GMO and this gives an edge to Indian Soybean Products over others.
The KN Group, one of pioneer in the Non-GMO soybean processing Industry in India, has played a pivotal role in the growth of soybean production & business in India. In the year 2007-08, the Group ranked amongst the major soybean processors of India with its annual crushing of about 2,00,000 MT (Metric Tonnes). Currently with three major soybean processing plants situated at Itarsi and Khandwa in Central India, the KN Group has a combined processing capacity of more than 2,200 tonnes per day.
To compliment its soybean processing activity in India, the KN Group has introduced a world-class refinery at Khandwa & Itarsi. This refined Soy Oil is now sold under its own brand name in neatly packed tins, cans & pouches.
The Group also manufactures soy value added products like Hipro Soybean meal, Lecithin, Defatted Soy Flour, Defatted Soy Flakes, Grits, Speciality Fats and Soy Hulls Pellets. To ensure and deliver quality of the highest standard, all soy products go through rigorous quality control processes. The Group is already having ISO-9001, ISO-22000, HALAL, Kosher certifications.
The KN Group is also one of the most active players at Mumbai INPT Port for shipments of soy meal in break bulk as well as in containers. It even enjoys a favoured status with most of the prestigious & well established feed Millers & multinationals of high repute globally.
The Group is also into CNF sales to cater to its end buyers in various countries located in the Far East, Indian sub continent, Middle East, Africa & Europe. It has now established its foothold in Hipro Soymeal market with dedicated production capacity of 1000 MT (Metric Tonnes) per day.