Grain Milling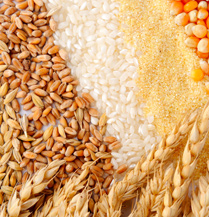 The modernisation of rice milling industry in India in 1970 has resulted in higher yielding of rice and better quality of by-products such as bran and husk suitable for edible oil. Foreseeing a huge growth potential in this arena, the KN Group also made a foray into the business of grain milling and set up its own Flour, Rice and Gram Mills.
Flour Milling
The roller flourmill at Itarsi has a capacity for milling 24,000 tonnes of wheat per annum. The wheat products are sold in the local markets under its own brand name. It also has facilities for cleaning and grading of wheat, which is packed, branded and sold in Central and Southern India.
Rice milling
Various rice mills situated in Central India have an annual milling capacity of 20,000 MT (Metric Tonnes). These mills are processing non-basmati long grain rice that is sold in the domestic & overseas markets.
Yellow Gram Milling
The gram mill situated at Itarsi has an annual capacity of 10,000 MT (Metric Tonnes) and it also caters to the domestic market.
Products & Specifications